Puri – Bhubaneshwar – Konark – Lingaraj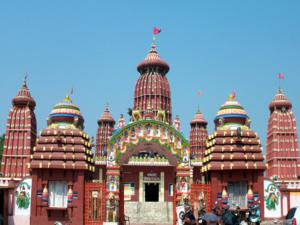 Introduction
The Sun Temple at Konark, the Black Pagoda' of European mariners The complex is in the shape of a gigantic chariot,  having elaborately ornamented chariot of the Sun god, Surya, wheels, pillars and walls.  The temple is a UNESCO  World Heritage Site , and has also featured on various list of Seven Wonders of India. It has twelve pairs of elaborately carved stone wheels which are 3 meters  wide and is pulled by a set of seven horses (4 on the right and 3 on the left).[6] The temple follows the traditional style of Kalinga architecture .
Odissa is famous for the majestic temple of Lord Jagannath at Puri (renowned for the spectacular Rath Yatra chariot festival), and for the glorious temples of Bhubaneswar. The Lingaraja temple is the largest temple in Bhubaneswar. The central tower of the temple is 180 ft (55 m) tall. Shiva is worshipped as Harihara, a combined form of Vishnu and Shiva.
Udayagiri and Khandagiri Caves are partly natural and partly artificial caves of archaeological, historical and religious importance near the city of Bhubaneswar in Odisha, India. The caves are situated on two adjacent hills, Udayagiri and Khandagiri, mentioned as Kumari Parvat.
Dhauli hills  are located on the banks of the river Daya. It is a hill with vast open space adjoining it, and has major Edicts of Ashoka engraved on a mass of rock.  Dhauli hill is presumed to be the area where the Kalinga War was fought. Ashoka had a special weakness for Dhauli, where the battle was fought. The Daya river is said to had turned red with the blood of the many deceased after the battle.
Nandankanan ,  Nandankanan has created its unique place for successful captive breeding of endangered Gharials in 1980. Birth of white tiger from normal coloured tigers has given a special place to Nandankanan over the world as one of the major host zoo for the white tigers.
Attraction
Puri , Sakshi Gopal , Konark , Lingraj , Dhabalgiri , Nandankanan , Udaigiri .
Itinerary
Day 01   Start for Puri . Night Stay in Train.
Day 02 Arrival at Puri  Visit Janganath Temple,Bedi Hanuman,Gundicha Temple . Night Stay at Puri.
Day 03 At7 am  Start for & visit Chilka Lake . Evening on Puri Beach . Night stay at Puri.
Day 04 Whole Day& Night Free . Night stay at Puri.
Day 05  At 7am Start for Bhubaneswar via Sakshi Gopal, Konark, Lingraj, Dhabalgiri , Nandankanan, Udaigiri . Night stay at Bhubaneswar .
Day 06 At 7am Visit Bhubaneswar  . In Evening Get Trainfor Kolkata . Night Stay in Train.
Day07  Back Home –Home –Sweet Home at Kolkata .                               
Charges
For Charges & Details Of Group , A.D.T.P  Theme Packages Please Contact India Birds – 7686960011-22-33-44-55-66-77-88-99  or indiabirds@gmail.com .
Conclution
We are always interested to make your trip enjoyable , we expect Your Physical  Stamina  and  Mental Enthusiasm  as the most important Co-operation to us . 
INCLUDED
1. Family wise Accommodation at Quality Hotel (Non AC).
2. All Transfers and Sight Scenes by Reserved Vehicle (Non AC).
3. FOOD :-Bed Tea, Breakfast with Tea / Coffee, Lunch, Evening Snacks, Tea/Coffee and Diner.
4. An experienced Manager
5.  Luggage Carrying Responsibility.*

EXCLUED
1. Ship , boat and  Air Fare.
2. Train Food, Any Entry Fees, Guide Charges, Camera Charges, Pilgrim Tax.
3. Personal use of vehicle; personal expenses, room service & special orders, water, beverages, tips, phone calls, laundry, Any Rides etc.
4. Any Extra- Itinerary-Tour .
5. Anything which is not included in above said package package.
YOU HAVE TO BOOK YOUR PACKAGE MINIMUM 130 DAYS PRIOR.
IT IS MANDATORY TO CARRY PHOTO ID CARD ALWAYS  ON  TOUR
BEFORE BOOKING ANY TRIP,  MUST GO THROUGH THE 'RULE AND REGULATION' OF 'INDIA BIRDS'
         WHICH IS  SHOWN IN  'BOOKING' OPTION AND 'DO & DON'T' WHICH  IS  SHOWN  IN  'IMPORTANT'
                                   OPTION AT THE MAIN PAGE OF  WEB PAGE OR BOOKLETS.